About Me
Meet Licensed Massage Therapist and Certified Aromatherapist Molly Messmer
Hi. I'm Molly, a Licensed Massage Therapist, Certified Holistic Aromatherapist, and Formulator at Blue Dawn Botanicals. I help people who struggle with the common complaints of aging and stress by offering quality botanical products and I educate others on how to safely use essential oils so they can feel calm, relaxed, and nurtured, and can live a more peaceful life.
Education in Aromatherapy and Massage Therapy:
600+ hours of Aromatherapy Training in Anatomy, Physiology, Chemistry & Safety

Licensed Orthopedic Massage Therapist

Reiki Master Teacher

Certified Holistic Aromatherapist

Professional Member of ABMP (Associated Bodywork & Massage Professionals)

Professional Member of AIA (Alliance of International Aromatherapists)

Professional Member of NAHA (National Association for Holistic Aromatherapy)

Professional Member of ICAN (International Clinical Aromatherapy Network)

Winner, 2022 Clallam County "Best Massage" and "Best Massage Therapist"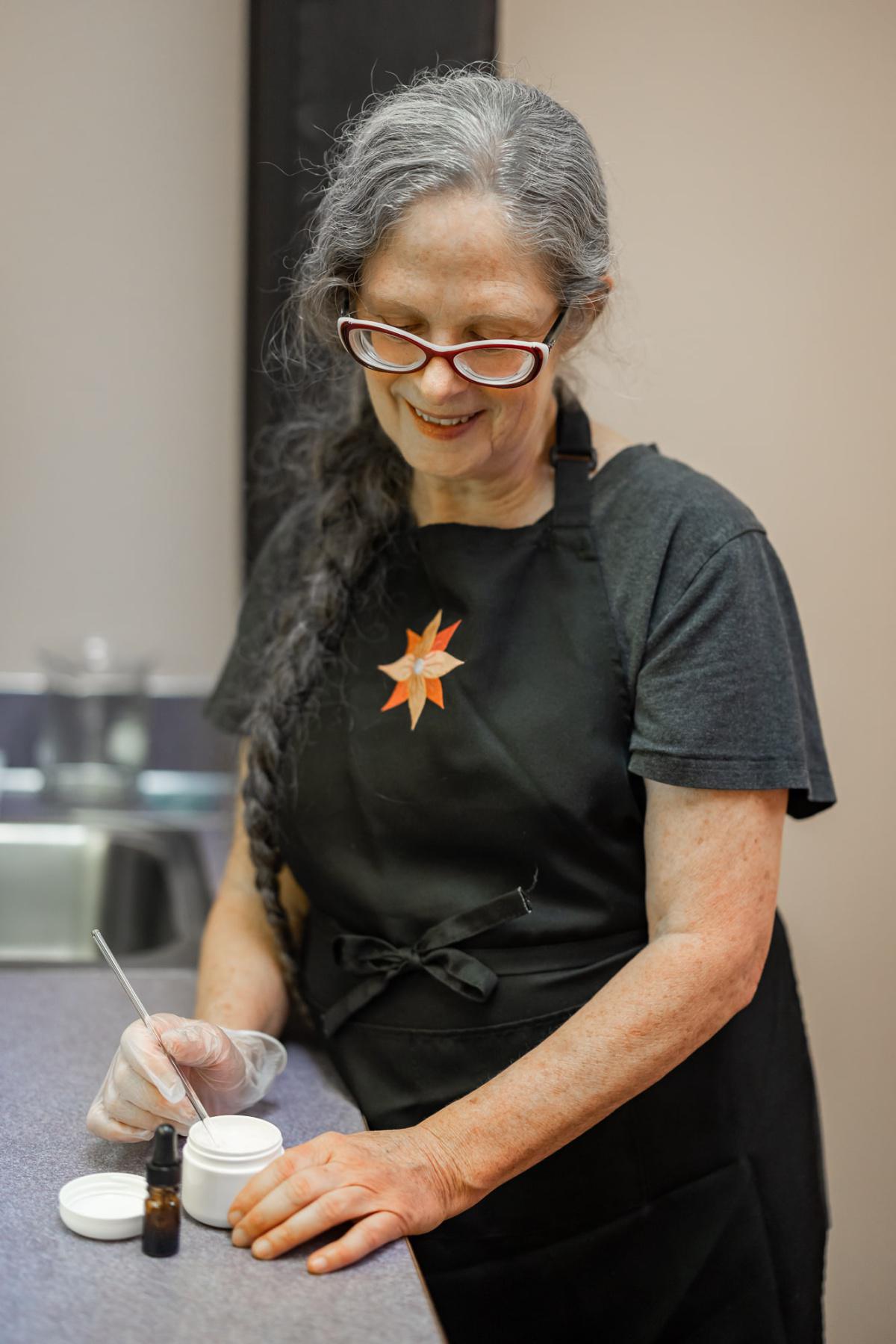 My Story
Back in 2014, shortly after I was introduced to essential oils, I was driving home from a workshop and I knew I needed to bring my sister along with me on this journey. We weren't raised knowing about alternative modalities, so there was a chance that my sister, a pragmatic registered nurse, was going to think I had gone a little crazy when I suggested she try essential oils, but instead we began a journey that just might impact the world of complementary medicine.
We both began repping one of the popular multi-level essential oil vendors, but got discouraged when our quest to understand the chemistry behind the products was squelched. I was thirsty to learn more. How should oils be safely used? How long are they good for? What is best for the immune system? I started to formulate products using the oils, but then asked myself, what good is it if I create these amazing products but don't have a license to touch? I became a licensed massage therapist, so I could use my blends in a practical setting and continue to learn how to help women feel stronger, healthier, and more confident in their skin. I left my entertainment-related corporate job of 27 years, and because our twin boys had grown up, was able to sell the house in Los Angeles in 2015, and explore the country for a year with my husband. We settled down in Port Angeles, WA in 2016 and I enrolled in massage school at the age of 56, and have built up my massage therapy business using the custom-blended essential oil products I create. I'll forever be curious about these aromatic ingredients and how they work together; understanding the science behind them is critical to using the products safely. I just completed a year-long Tisserand Institute diploma program in aromadermatology to further my study of the efficacy of the botanical ingredients I use and the positive impact they can have on the body.
My custom-blended essential oils help my massage clients with ailments ranging from stress and anxiety to wrinkles and scarring. and I offer four therapeutic proprietary body and skin care products including a body butter for pain and inflammation; a deep penetrating balm for rough skin, red patches, fine lines and scarring; an amazing concentrated cream that my clients swear puts an end to restless leg syndrome and other muscle spasms; and a breathe-easy product for allergies and congestion they say is better than Vicks! Simple ingredients. Familiar names. Better products. Scientific formulations that work.
Besides selling my own product line, I educate people on creating their own blends, and how to use all the essential oils they have in their collection. Again, product knowledge of therapeutic properties and chemistry is key, as the orange essential oil you bought at a trade show in 2020 might be best used to clean the heel scuffs off your hardwood floors right about now. And my sister? While working as a nurse for West Virginia University Hospital, she did a study on the impact on patient care by oncology nurses who wore aromatherapy patches. That led to entry in a PhD program studying the efficacy of using personal inhalers filled with essential oils to reduce anxiety levels for patients in a medically-controlled detox setting.
This is the part where we change the world--she and I have traveled to Haiti where we shared the benefits of aromatherapy by ministering to and educating locals about the healing properties of essential oils. We have also done a study tour to Egypt and plan more adventures together in the future.
My dream is to continue this aromatherapy adventure and see where it takes me next.
In the interim, you'll find me in my massage studio, blending my blends and helping women, one arthritic knee, stuffy nose, restless leg, and fine facial line at a time.
FDA Disclaimer: The statements made regarding these products have not been evaluated by the Food and Drug Administration. The efficacy of these products has not been confirmed by FDA-approved research. These products are not intended to diagnose, treat, cure, or prevent any disease. All information presented here is not meant as a substitute for or alternative to information from health care practitioners. Please consult your health care professional about potential interactions or other possible complications before using any product.